Our Staff And Caregivers
Staff Qualifications
Our employees' passion to assist each and every resident is evident in their daily encouragement and level of care. The medical staff stays up-to-date on each residents' medical needs to effectively manage their health. All employees are licensed and approved by the state of Mississippi as required by law. The site administrator, Brandy Delaney, oversees the staff and has many years of experience in caregiving that she uses to go above and beyond to make residents comfortable in this new stage of life. Read more about Brandee's qualifications and contributions to Garden Hill Assisted Living below.
---
Brandee Delaney
Administrator
As Adminstrator for Garden Hill Assisted Living, Brandee is responsible for running daily operations.  She manages employees, oversees resident care, develops individual care plans as well as collaborates with family members to ensure the highest level of care by all members of the health care team.
Originally from Texas, Brandee grew up in Houston and is currently living in Reform, Alabama. She is a graduate of the Art Institute of Houston and has over 20 years of advertising and marketing experience. She has worked with such clients as: Shell Oil Company, Igloo, The Williams Company, Compaq Computers/Hewlett Packard, and Ermosa Medical Center. She also developed an art curriculum and taught art at The Branch School in Houston, Texas, along with coaching youth groups in a variety of creative, community-based, and environmental activities. While living in St. Louis, Missouri, Brandee owned a catering service, Blessing Your Table, which provided freshly, prepared nutritious meals for senior friends who were challenged with getting out and wanting to stay independent at home.
"I'm happy to be home in the south again, closer to my family, and enjoying the opportunity to help Garden Hill grow. I have one daughter, attending Agnes Scott College who is a double major in International Relations and Business Management with a minor in Latin. I also have an adorable rescue puppy, Nula, who is now part of Garden Hill's pet therapy program."
---
Courtney Winstead
LPN
Courtney is a New Hope native, living minutes away with her Fiancée Dalton who is employed with Yokohama and their cherished little bundle of joy Declan. She is a Licensed Practical Nurse who graduated Nursing school in 2013 from EMCC. Courtney is TB and CPR certified with experience in Assisted Living.
We ask her to explain why she loves nursing and her response was this; "Being a nurse is something I've wanted to do since I was a little girl, so having that dream become reality is something I will always cherish. I NURSE because it is a vessel for me to radiate my character of love and care on a population that needs it the most! It is such a privilege to serve every single one of my residents. Putting a smile on their face is my #1 goal each day. Here at Garden Hill we're always finding reasons to laugh, because it may not add years to our life, but will surely add life to our years!"
---
Marnie Gill
LPN
Marnie was born and raised in Columbus and has been a nurse since 2011. She has two beautiful, intelligent children that both love sports and music. She enjoys playing guitar and singing with her dad in a Duo called "Wayward Priest". When asked about joining the Garden Hill family, she said, "I love being a part of the Garden Hill family, everyone is so kind and loving. I am proud to be affiliated with this facility." Please welcome Marnie Gill, LPN.
---
---
Wendy Brandenburg
RCW
Wendy is a native of Columbus, Ms. She has been a nursing aid for over 15 years, including private duty sitting in home and other health facilities. She has three children, all boys.
When ask what she loves about her profession Wendy had this to say; "I love working with the elderly, you can learn a lot from them. Since I started at Garden Hill it has been great, the residents have been very sweet, as well as the employees".
---
---
Maribeth Spruill
C.N.A.
Meribeth is a Columbus native with over 4 years of experience in healthcare. She has been married to her husband Andy for 5 years and they have 2 children, a 6-year-old son and 2-year-old daughter. When ask to describe working at Garden Hill, Meribeth had this to say, "I love working for this facility. We are all loving and caring people. Please welcome Meribeth Spruill, CNA.
---
Anita McCollum
Dietary Supervisor
Anita was born and raised in Columbus, Ms. She has been married for 31 years to her wonderful husband Michael. She has over 15 years of experience in dietary and food handling services. She is ServSafe certified and prides herself in always maintaining State and Health Department regulation when preparing her meals. She loves spoiling our residents from time to time with their favorite treats or desserts, including spending extra time with residents during meals for possible feedback to improve if needed.
---
Sharon Johnson
RCW
Sharon has been love people and working in the healthcare industry for over 14 years. She is from Ethesville Alabama and has 3 children. She believes she is called to love and help elder residents and says it's a part of her heart to do her work. When we ask Sharon to describe what she enjoys about Garden Hill she said, "I love my Job! I have the best job in the world at Garden Hill. Personal care is just like family, We Care About People!"
---
Diane Baldwin
RCW
Diane is a native of Macon, Ms but has lived in Columbus for over 23 years. She is a mother of 3 sons and one grandson. She has more than 20 years experience in health care and residential services. Diane states, "Here at Garden Hill, I enjoy working with the residents. I like to know that I bring enjoyment, comfort, trust, communication and a safe environment at the end of the day. I want to feel they are in good hands."
---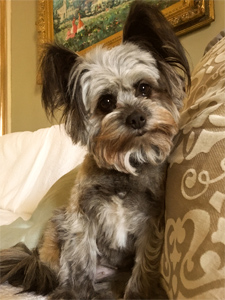 Biscuit and Nula
Biscuit and Nula are part of Garden Hill's pet therapy program. Our sweet little furry friends love spending time with our residents and bringing joy to their day!